Centreville Preschool is proud to be Centreville's only non-profit, cooperative preschool. As a member of the Virginia Cooperative Preschool Council, CPI has been owned and operated by parents, and staffed by professional teachers, since 1969.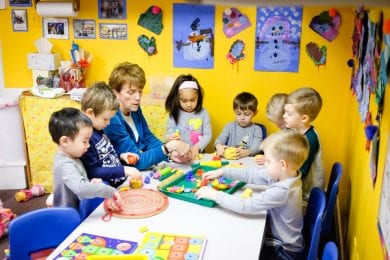 What is a Cooperative Preschool?
In a cooperative preschool like CPI, there is a trained teacher (or teachers) for each class, but parents take turns helping out in the classroom on a rotating basis, usually once a month or every five or six weeks. They are also asked to bring in snacks and drinks. Parental jobs may include:
Running a craft
Handing out snack
Helping to clean up
General supervision
Assisting the teacher in demonstrating a lesson
In addition, cooperative parents are required to serve on a school committee and assist with one school improvement project during the academic year.
I want to be a part of my child's classroom learning experience, but I am also a working parent. What can I do?
At Centreville Preschool, we understand the importance of having a work/family balance, and our flexible staff will work with you to ensure both you and your child have the best experience possible! There are numerous school events and class get-togethers throughout the year, which will give you the opportunity to meet other families within our community. In addition, there are a variety of class options to fit your specific needs:
Cooperative: 3's and 4's
Non-Cooperative: Beginners and all weekly enrichment classes
Semi-Cooperative: Pre-K
If you want your child to have a co-op experience but know you won't be able to volunteer regularly, you can participate in our Buy-Out program. This enables you to register a child in a cooperative class at a noncooperative cost without the corresponding parent responsibilities.
While most schools welcome parental involvement of some sort, in a cooperative preschool like CPI, parents are given the unique opportunity to join a network of supportive families, work closely with the teachers, and participate in their child's learning experiences. Our parent-members help to shape the future of CPI, and work to ensure that their children receive the best possible preschool education.